Frans Hattink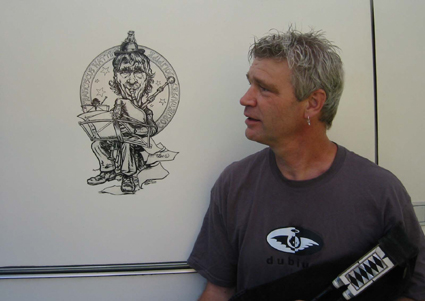 I became acquainted with the bagpipe during the folk revival of the Seventies.
My passion were the Uilleann pipes. After a visit to Dublin and to the Willy Clancy Music school in Miltown Malbay (Western Ireland) I was completely smitten with the instrument. I wanted a set of pipes and I wanted to learn how to play them. The then already senior maker and player Dan o'Dowd from Dublin built my pipes. Subsequently I went to the Music school in Miltown Malbay every year where Liam O'Flynn and Paddy Keenan, among others, were teachers. Davy Spillane came there as well when he was a kid. Those were the days! A little later I started to make various musical instruments myself (such as the Noardske Balke, a Frisian type of dulcimer), I gave courses on instrument making in various creativity centres in the North of Holland and participated in musical school projects. The Uilleann pipes were traded in for the bagpipes from France and Flanders. In those days the first course weekends of the then still very young Dutch Hurdy-Gurdy and Bagpipe Society (Stichting Draailier en Doedelzak) were held.
In the beginning of the Eighties I was in close contact with R�my Dubois, the well-known bagpipe maker from Wallonia. R�my taught me a lot, he was the instigator of my bagpipe making activities.
I've been making bagpipes professionally for years as well as being a teacher of this beautiful instrument. I teach at the Dutch Hurdy-Gurdy and Bagpipe Society. I work in a beautiful, new studio. The making of bagpipes is a very traditional craft. It is more than just design. The extra dimension is the sound and playability of an instrument. Through a combination of sound wood, technical knowledge, a thorough information exchange with fellow makers, and a passion for the sound of the bagpipe, I've been able to establish an extensive circle of customers.
Cornemuses Jolipipe keeps aiming for innovations in the making of bagpipes. The bagpipe, an age old instrument which is still evolving.